Robert Daniel Marshall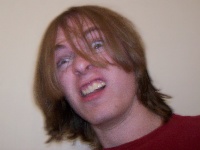 ...is me. I was going to write this page in the third person and try to sound really professional, but screw that.
This page may have more information about me someday. Until then, I'll tell you that I was born on 11th September 1988, am from Beverley in East Yorkshire, and am currently studying Computer Science at the University of Leeds, with the aim of graduating in 2012.
I love Caroline Shields.
Contact Me
My email address is rdm@rdmsoft.com. The same address works for MSN/Windows Live Messenger. You can also contact me via Facebook or Twitter if you're that way inclined.
On IRC, you can find me in #fluff, #chatzilla, and #glasnost. I'm tH.